Day two opening keynote - 2020 enhancement conference
Meet Sally Kift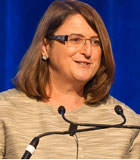 We are delighted to confirm that Professor Sally Kift (President, Australian Learning and Teaching Fellows) will deliver the opening keynote on day two of our international enhancement conference, 'Beyond measure? Exploring what counts in higher education'.

Recipient of the 2017 Australian University Career Achievement Award for her contribution to Australian higher education, Sally has held several university leadership positions and is currently President of the Australian Learning and Teaching Fellows (ALTF). Find out more about Sally
About Sally's Keynote presentation
Entitled 'Keeping Calm in the Face of Disruption', Sally's keynote will draw on work from one her chapters 'Employability and Higher Education' from the edited collection Education for Employability (Higgs, Crisp and Letts [eds.], 2019).
Reflecting on the current disruption to the employability agenda in Australia, and other disruptive agendas that will influence HE in the immediate future, Sally will outline the need for a sustainable, relevant state with easy and routine access to lifelong upskilling and retraining.
Full details of Sally's keynote paper will be added to our plenary programme in due course.
Book your place
Join us at one of the UK's leading learning and teaching events and be part of the conversation.