Day one opening keynote - 2020 Enhancement Conference
Meet Dr Ben Williamson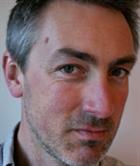 We are incredibly excited to confirm that Dr Ben Williamson (University of Edinburgh) will deliver the opening keynote at our 4th international enhancement conference, 'Beyond measure? Exploring what counts in higher education'.
With over ten years' experience researching new developments in digital technology and data in education, Ben currently works as a Chancellor's Fellow at the Centre for Research in Digital Education at the University of Edinburgh. Find out more about Ben.
About Ben's keynote presentation
Entitled 'University 4.0? The future of data, automation and artificial intelligence in HE', Ben's keynote presentation will address the many upcoming challenges and opportunities of data and evidence in higher education.
Specifically, he will ask:
What can the HE sector learn from data-led regulation in England and elsewhere, and what do market-based models mean for HE as it embraces the promises of data?
How can the HE sector prepare for a future characterised as the 'Fourth Industrial Revolution', and what are the implications of a 'University 4.0' model for teaching and learning, and for HE policy and management?
We will add full details of Ben's keynote paper to our plenary programme in due course.
Book your place
Join us at one of the UK's leading learning and teaching events and be part of the conversation.