Meet Our Conference Keynote Speakers
We are excited to announce further details about day three of our International Enhancement Conference, Building Resilient Learning Communities: Using Evidence to Support Student Success (3-5 November).
Delivering the final keynote of the conference, we are pleased to welcome Professor Ajay Agrawal (University of Toronto).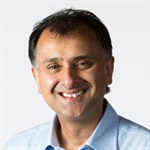 Professor Agrawal is the Geoffrey Taber Professor of Entrepreneurship and Innovation at the University of Toronto's Rotman School of Management and Research Associate at the National Bureau of Economic Research. He conducts research on entrepreneurial finance, the commercialization of university science, the economics of innovation, and the economics of artificial intelligence. Professor Agrawal is founder of the Creative Destruction Lab (CDL), a non-profit organisation that delivers an objectives-based programme for massively scalable, seed-stage, science and technology-based companies. His keynote presentation will outline the work undertaken by CDL and explain the market design principles underlying the programme and how they are implemented in its delivery. In addition, he will explain the pedagogical framework for student learning in terms of theory and learning-by-doing.

Following his keynote presentation, Professor Agrawal will be joined by Professor Sara Carter OBE, Vice-Principal and Head of Social Sciences at University of Glasgow for a live Q&A and discussion session. Professor Carter is a member of the Council of Economic Advisers to the First Minister of Scotland and the Enterprise & Skills Strategic Board, and so will bring her expertise in relation to entrepreneurship from a Scottish context.
This is a not to be missed event for a new era in higher education. Visit our dedicated event booking site to find out more and book your place now.